Spring has finally arrived and with it, fabulous climate and mild temperatures, perfect for visiting beautiful locations of Italy. We always hear about Sardinia or Capri, but the truth is that Italy features a large array of stunning islands, sometimes ignored by travellers.
One of those idyllic locations is the island of Ischia, very close to the west coast of Italy, off the coast of Naples. It has a volcanic origin and is, in fact, very close to Capri, known worldwide for its exclusivity and the numerous rich people that have their summer residence there. But why should we all go to Ischia? On this post, we are going to explain what are the main attractions of this unique place.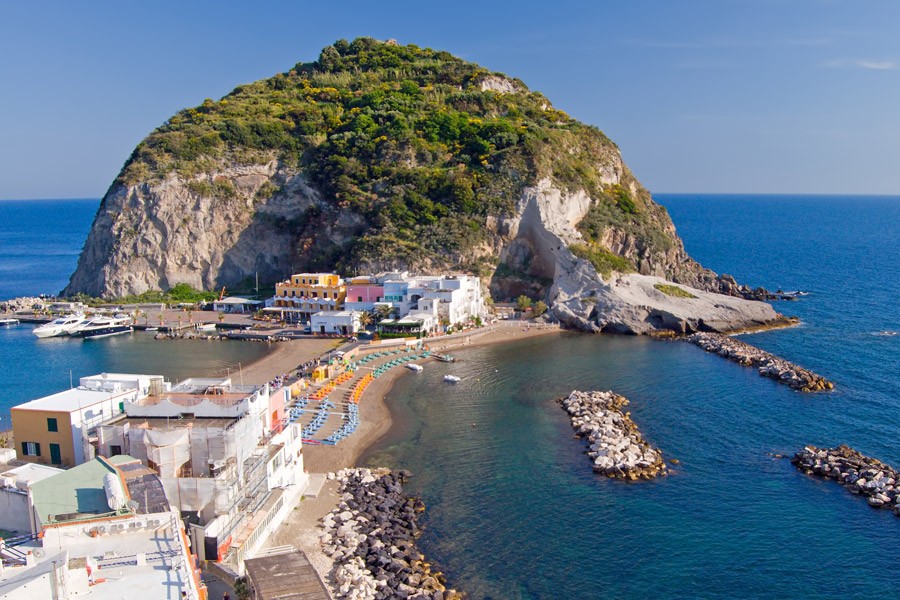 Why should we all go to Ischia?
Villas and houses: A simple walk around the island will serve you to enjoy the white of most of the constructions of the place. In the port area also bluish colours predominate, and the appearance is breathtaking.
Castello Aragonese: Taking advantage of a small outcropping of land that goes into the sea, this castle stands as the iconic monument of the island. If you visit Ischia, you cannot miss the opportunity to visit this beautiful fortress. In the past, this castle was the town itself and served as home to more than 1000 families. This fortress defended all its inhabitants against pirate attacks. Nowadays it's one of the best museums of Italian islands.
Sant'Angelo: Ischia consists of several small villages, and this is without a doubt the most beautiful of all of them. Great fortunes choose it to establish their abode, and it is not for less, thanks to their colourful houses and their abundant tourist offer.
Bays and beaches: Touring the coast of Ischia is a pleasure, as it is full of beaches, coves, cliffs and rock formations very particular. Bays like Sorgeto, San Montano or Maronti are sure to fall in love.
Landscapes: Although the coastal areas are often very crowded, the further you enter, the more you can enjoy in exclusive beautiful green landscapes. The more you go inland, the closer you'll be to the Epomeo volcano, which occupies the centre of Ischia.
Thermal waters: The volcanic origin of Ischia facilitates that there are still several places where you can enjoy hot springs, such as Gurgitello, Cotto, etc. It is a very distinctive stamp of the island, and you will love to come across such exclusive enclaves.
Climate and gastronomy: What can we say? The Mediterranean climate prevails in Ischia throughout the year, so you can expect to enjoy mild temperatures. Also, you can enjoy the best of Italian food, as well as abundant seafood and fish dishes more typical of the area. Do not forget to give them a chance, as well as different cheeses and wines.
If you lacked reasons why to go to Ischia, with these indications you already have many ideas to undertake your tour of this unique island. Please note, that you cannot visit much of the island by car, so in case you don't want to walk, you must rent a moped or use public transport.
If you need more reasons to visit this fabulous area, please note that all the beauties of Ischia can be seen and enjoyed in the classic film Cleopatra. Do you want to enjoy this beautiful location? Click here and enjoy the best discounts on accommodation on this marvellous Island.
Share