Ravello
, Ravello, where have you been all my life? In all the times I've made the trip from
 Rome
 or Naples to the 
Amalfi Coast
– that cliffside, vertical jewel box that hovers over the bluest of blue seas – I've never climbed the hill to see you. I had no idea you were up there, watching over the more touristy
Amalfi
 and 
Positano
, knowing that your gorgeousness speaks for itself, and you don't have to advertise in Diane Lane movies. You're confident that way.
Indeed, I've been to the Amalfi Coast about six times. It never gets old. I step off the train or bus, see the pastel houses and hotels, the blinding reflection of the sun on the water, and in June, the wisteria and hibiscus climbing all over everything like unruly children, and want to cry. Your eyes just feast.
But I had never been up to Ravello. Ravello is way up on the steep hill overlooking all of this. Like the supervisor of the more famous Amalfi Coast towns below, Ravello isn't as touristy, and you can't take a ladder down to the water. What you CAN do is absorb the most intensely colorful views from everywhere you turn. And the smell of flowers up there is so strong, it almost competes with the scent of your meal.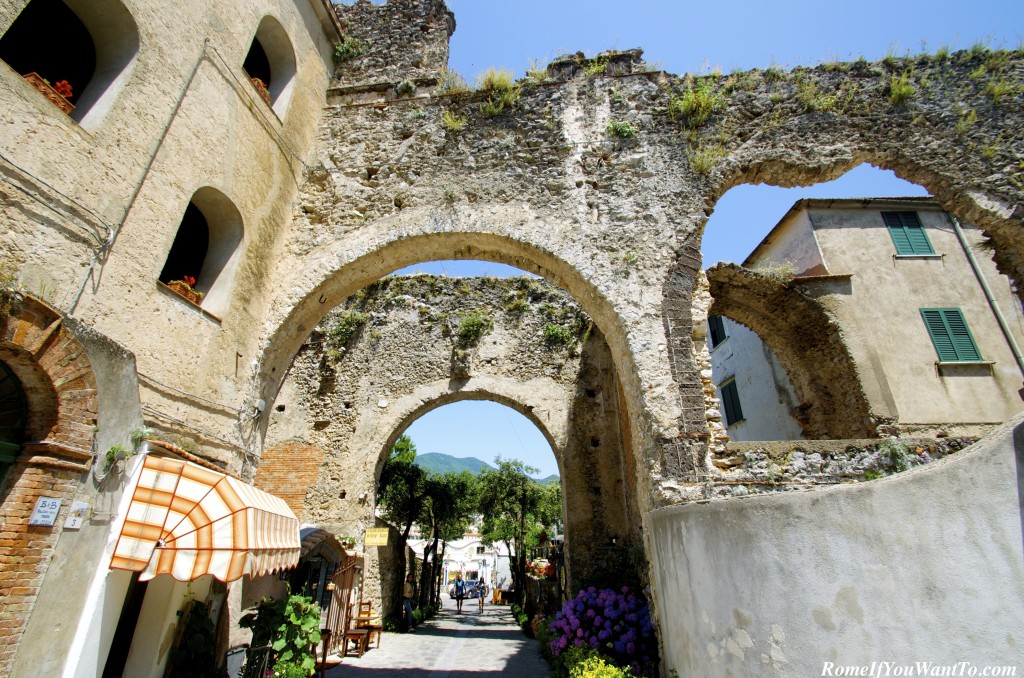 The entrance to Ravello as you arrive in your car.
No wonder it is so high up – founded in the 5th century A.D. as a refuge from invading Barbarians. A tiny town with currently about 2,500 permanent inhabitants, it has a surprising number of ornate, splendid palaces stemming from its glory days in the 12th century, when the population of Ravello was ten times what it is now.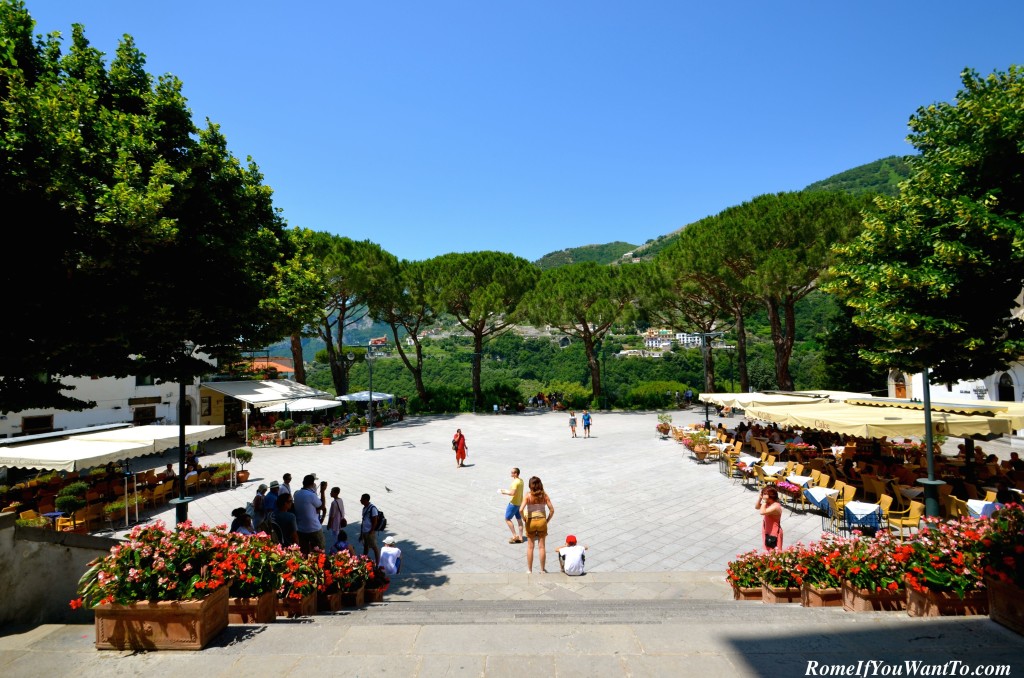 Ravello's Main Square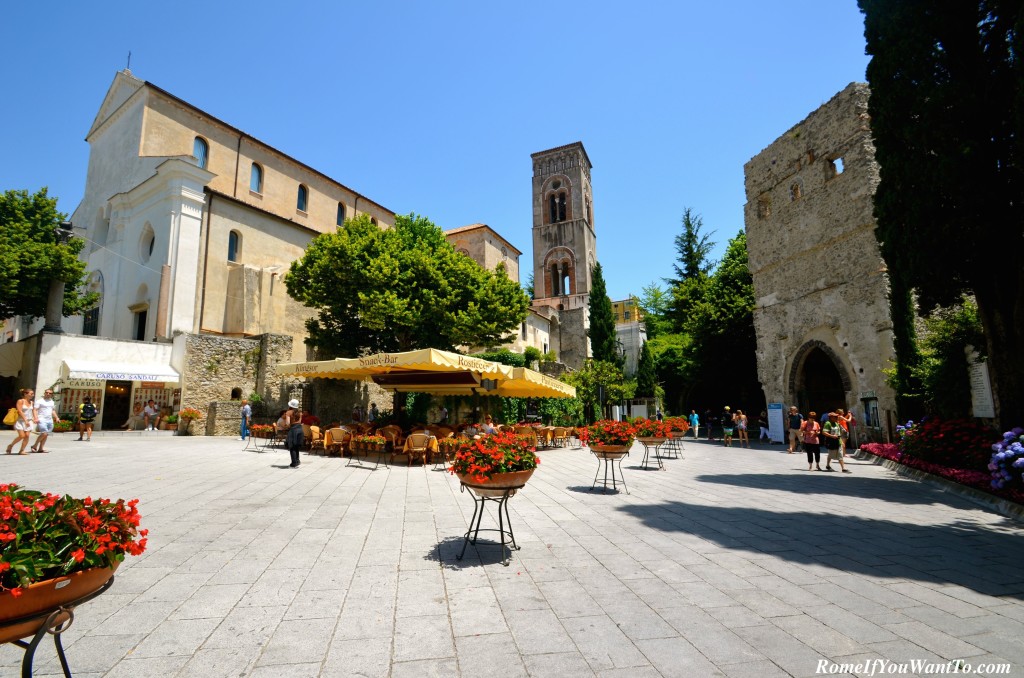 Ravello's Main Square (again)
On my annual tour of Italy with my two fun-loving aunts, we sometimes plan day trips around meals. Doesn't everyone? We had been reading about the best places to eat on the Amalfi Coast, and more importantly, with the best views, and we found Palazzo Avino in Ravello. Perfect, we all wanted to go to Ravello for the day anyway!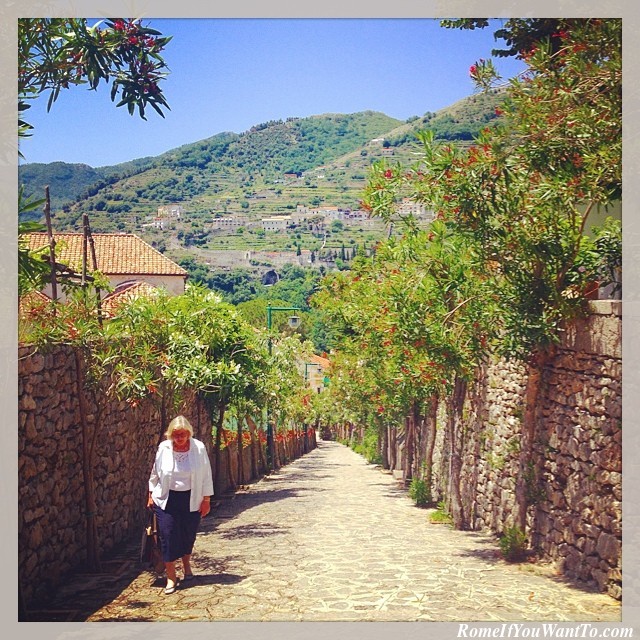 My aunt on the stroll up to Palazzo Avino
After a short drive up the mountain and another stroll up an easy, almost flat staircase from the main square, we were in front of the most magnificent hotel I've ever seen.
And I'm a hotel aficionado, and a very picky one.
We entered through double doors of the Palazzo Avino, flanked by statuary and columns, wasting no time to look left or right because in front of us was a perfectly framed Mediterranean panorama. This can't be real life, right? Surely this is a painting. Or maybe I'm dreaming. Any minute I'm going to wake up back in Dallas. Surely a place like this is reserved for people like Beyonce'?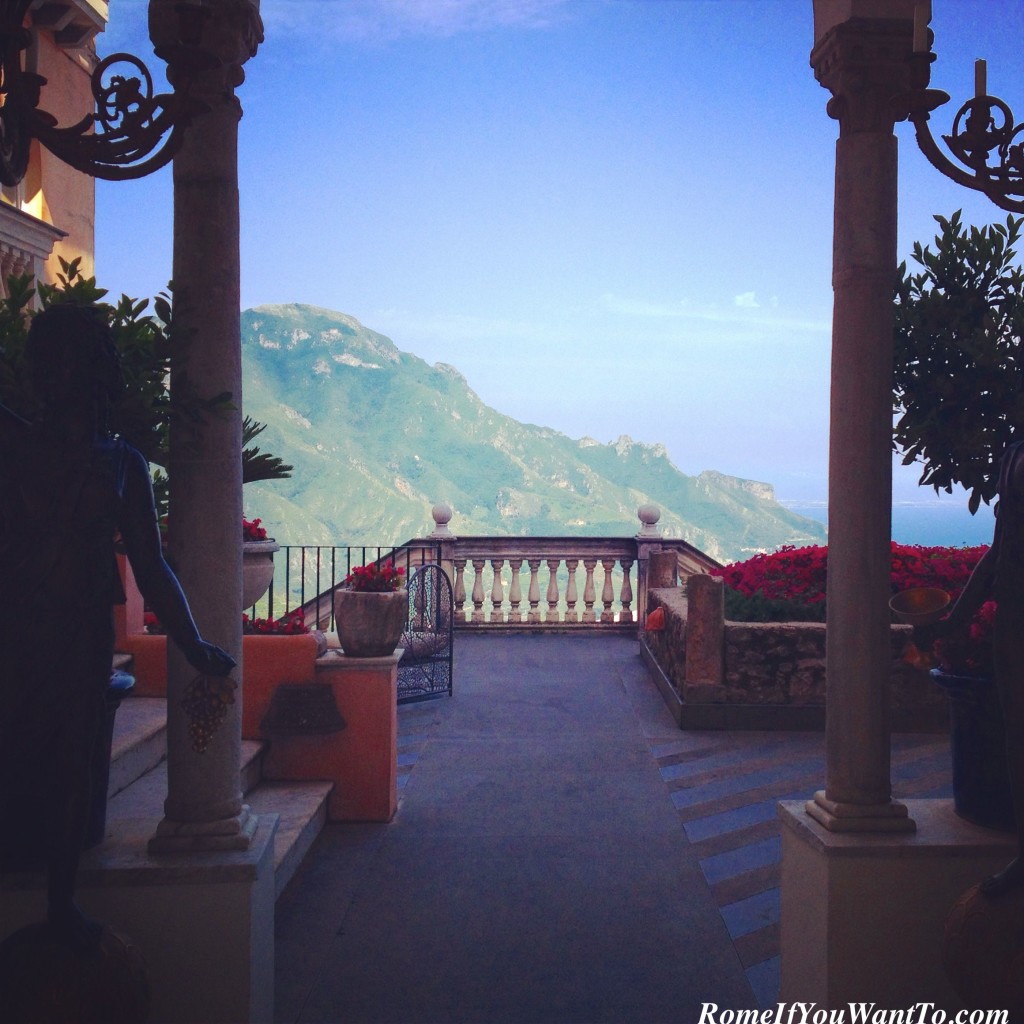 Leave one world, enter another. Honestly this place is a Top 3 Experience (not just hotel) in Italy.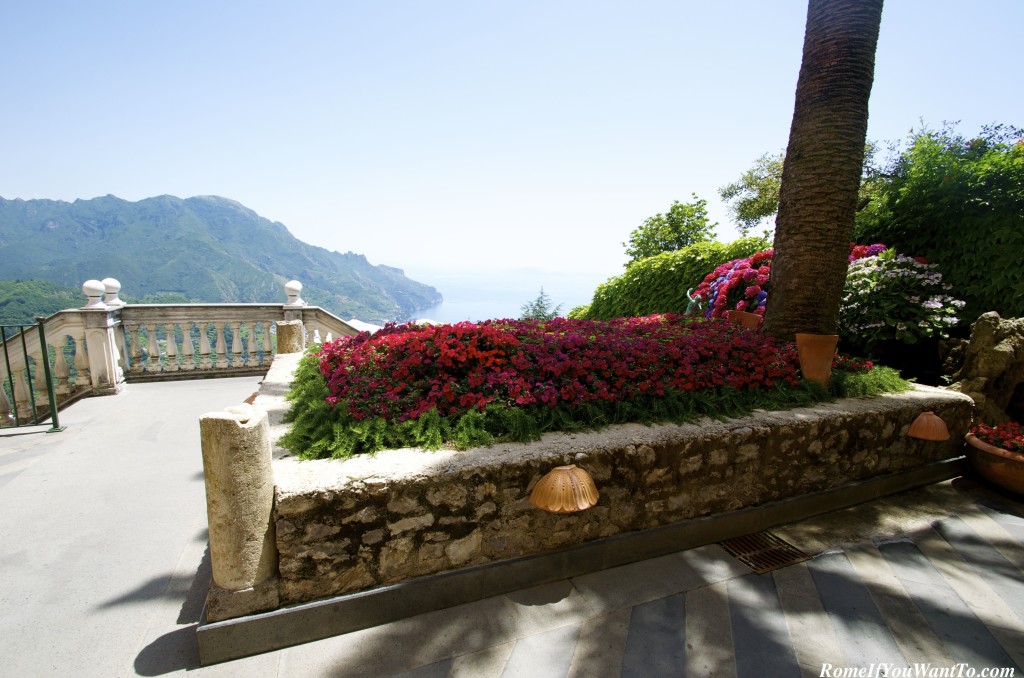 Just through the entrance to Palazzo Avino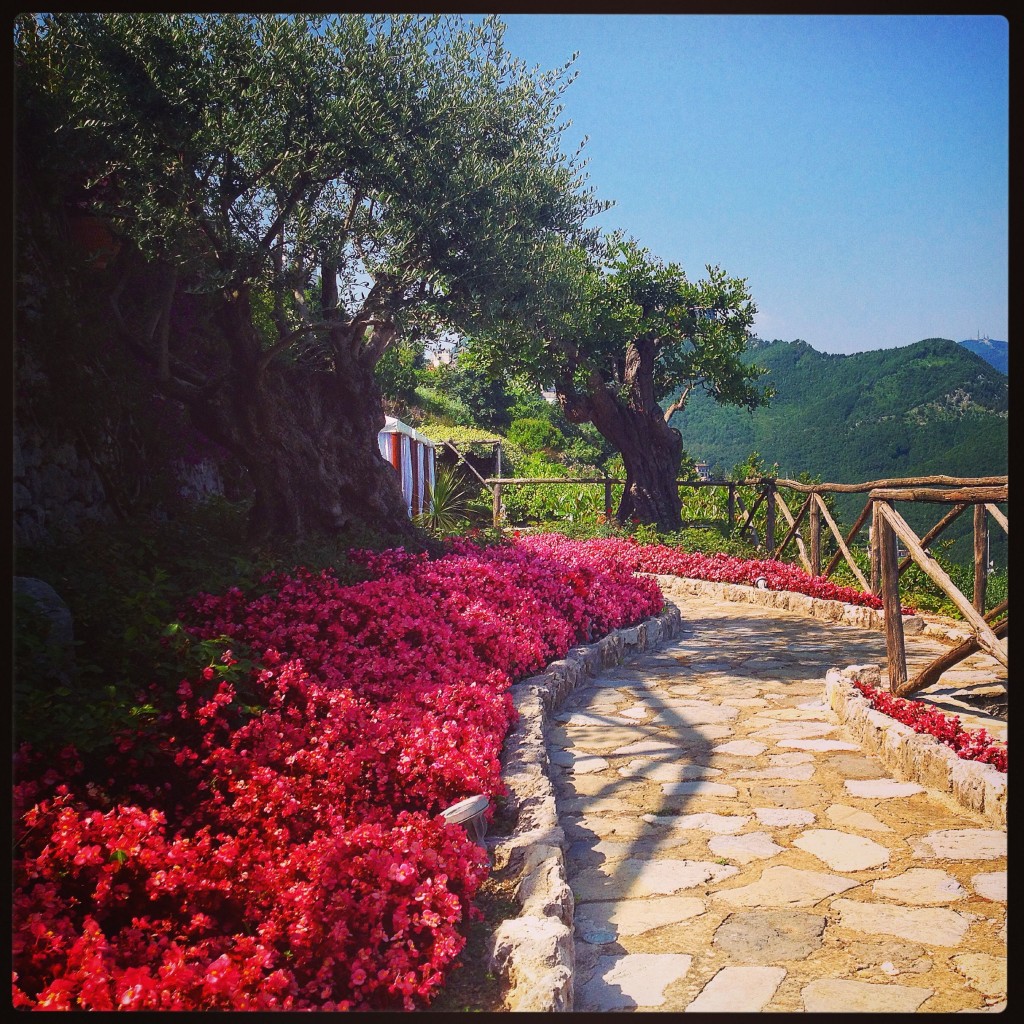 Don't even care where this goes.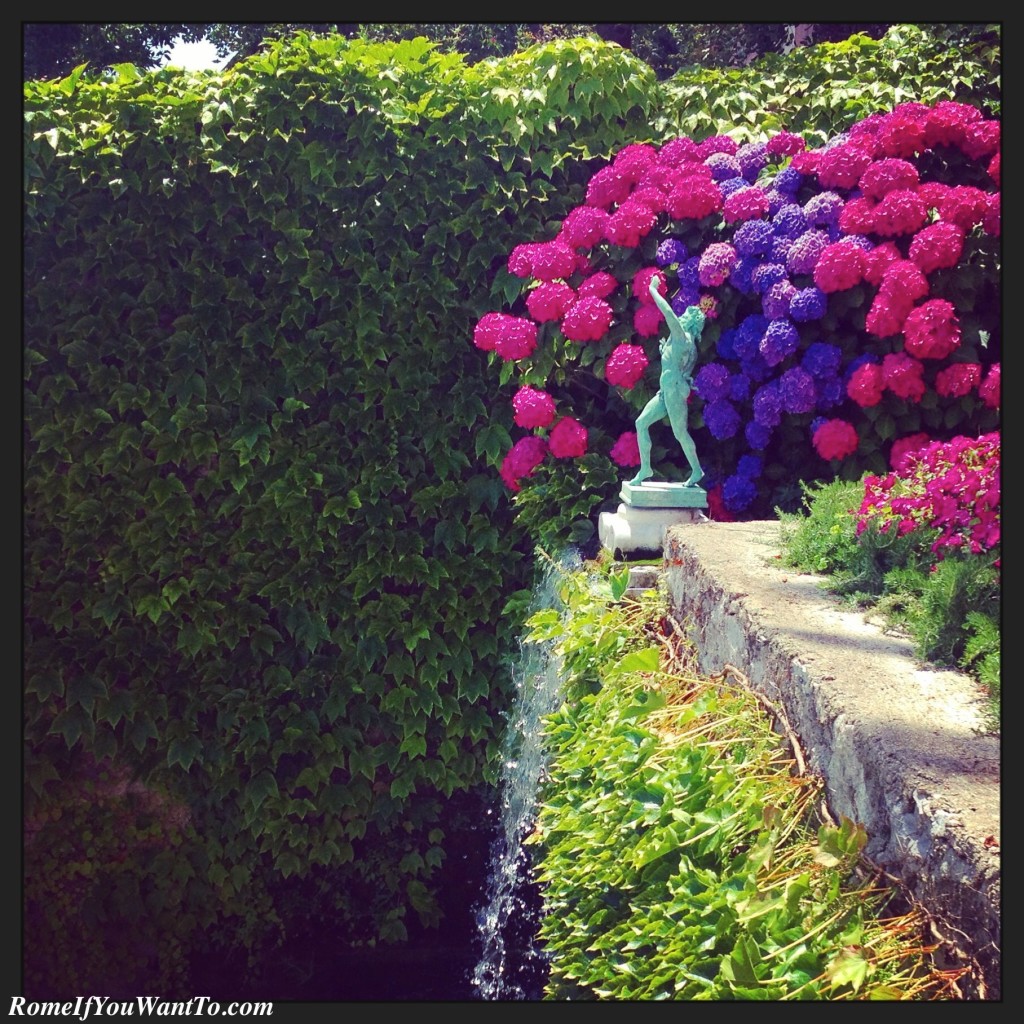 Everywhere you look.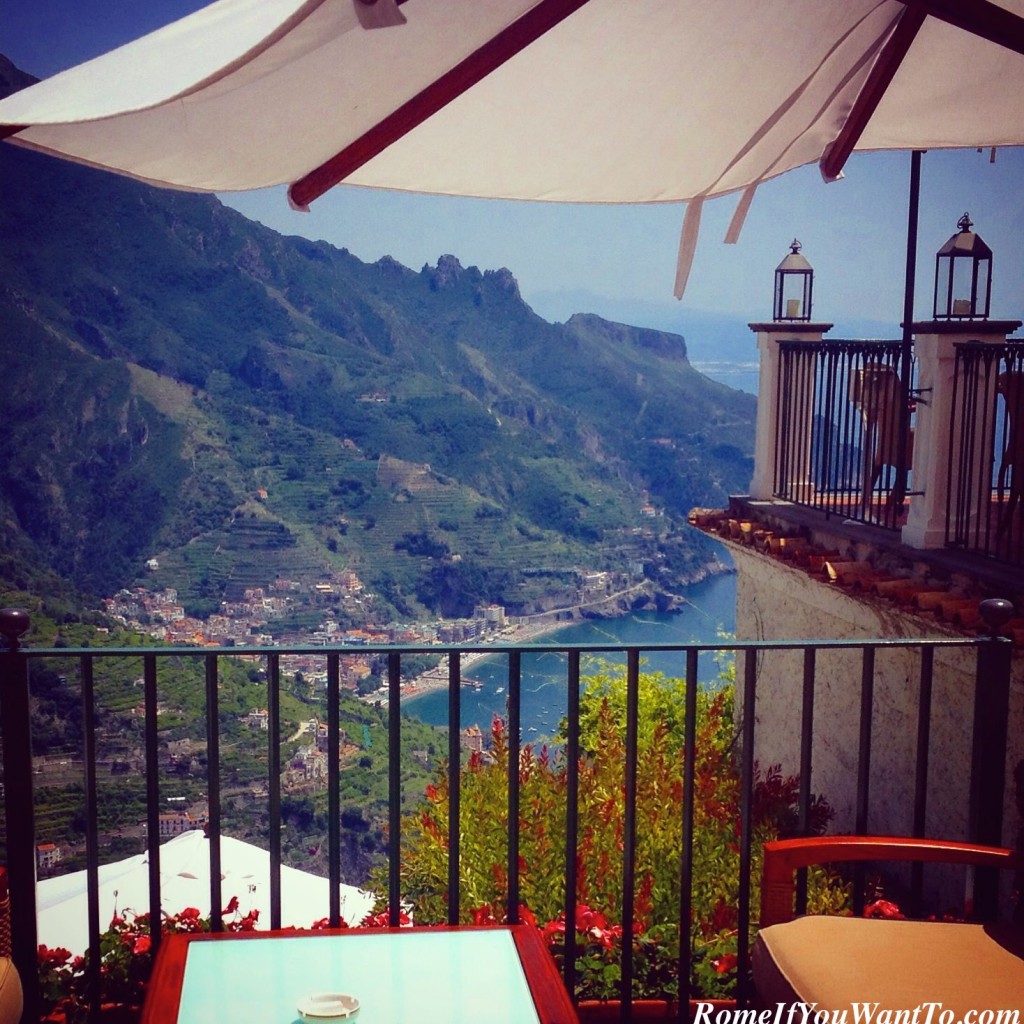 Imagine lunch here, for hours.
No, mortals like my aunts and me are welcomed, too. We had reserved a table for lunch and we were given one right on the edge of the outdoor terrace, right on the edge of the hillside, right on the edge of the world. We sat for several hours, my aunts and me, oohing and aahing over the food and drinks as if we'd been subsisting on bread and water for our whole lives.
The drinks. Cold, slushy Bellinis with berries, tasting pretty much how I imagine a peach would taste fresh off of a tree if it had been watered with champagne.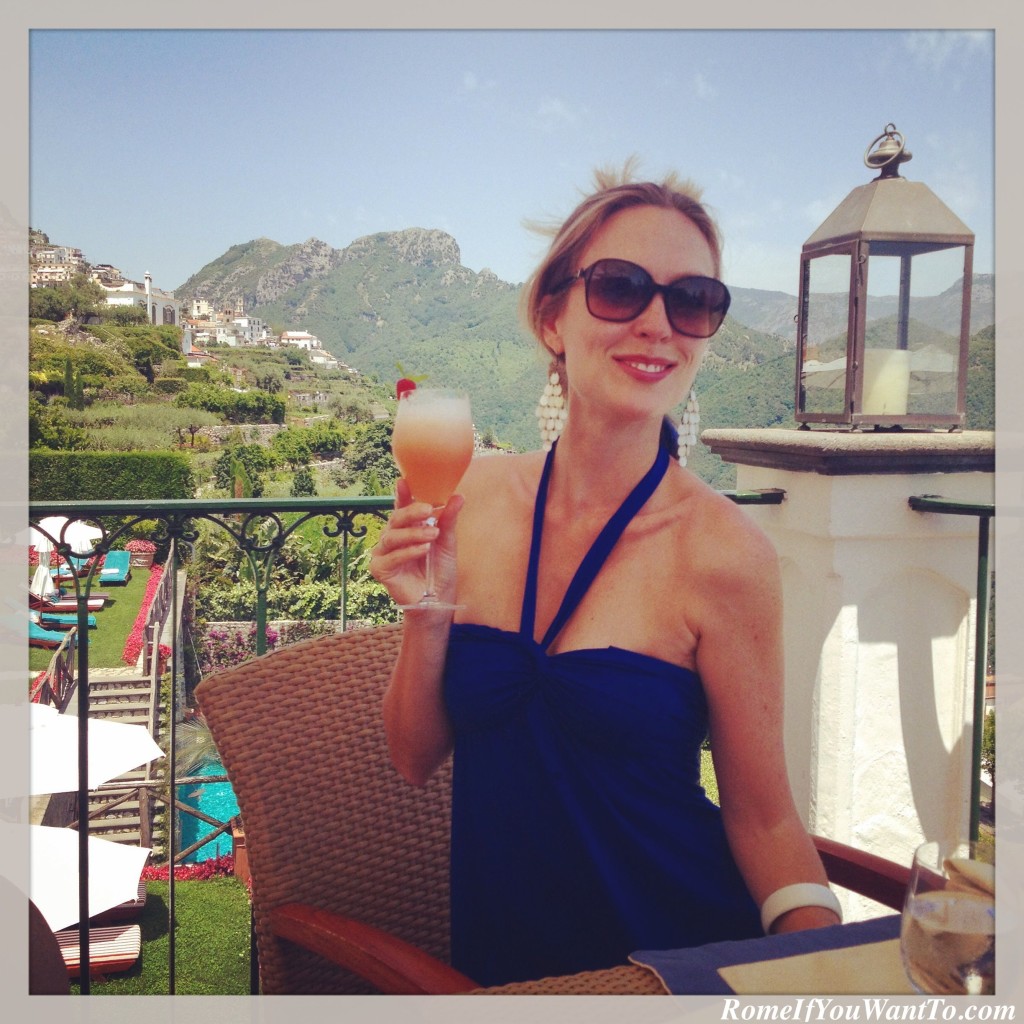 This photo proves that I am alive and not in heaven.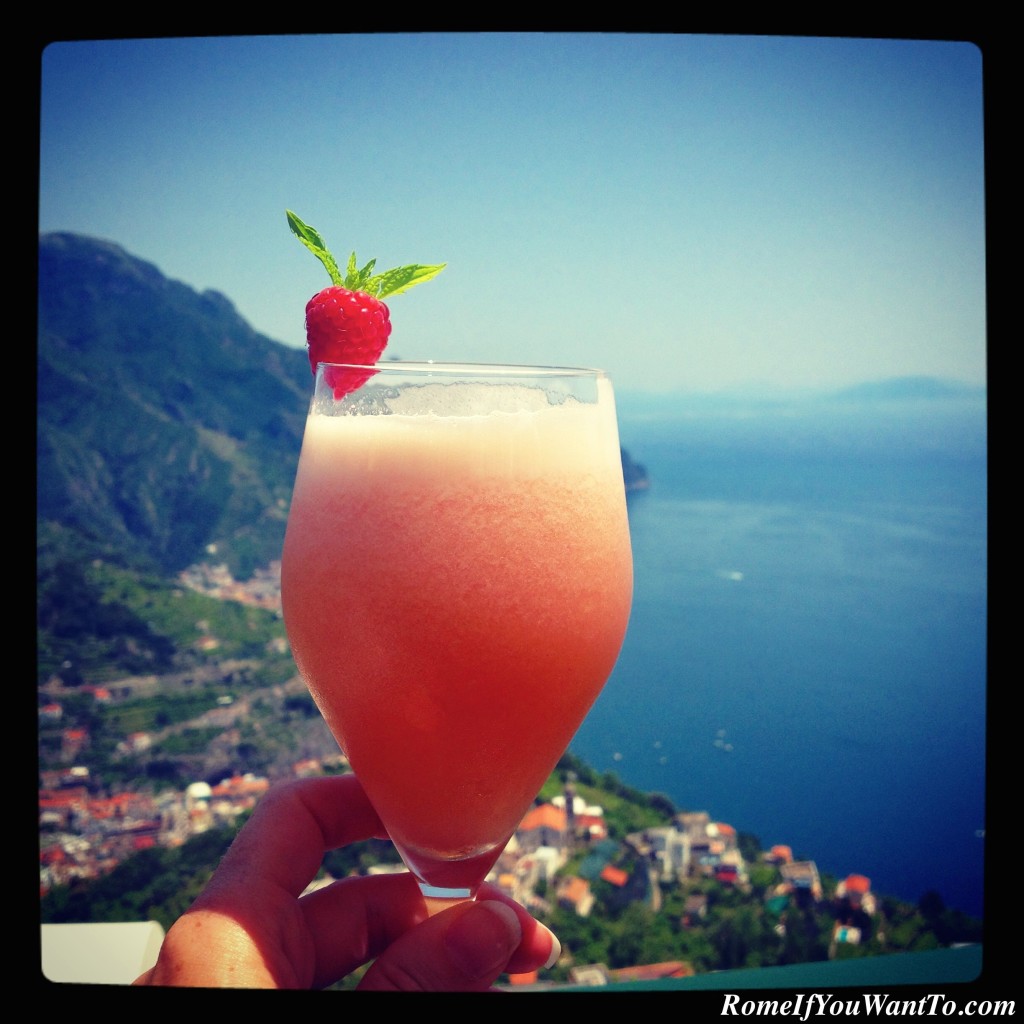 Liquid Italy.
The food. I had seared, rare tuna with a salad made of crusty bread and tomato, my aunt had a plate of fried squid and other frutti di mare, and my other aunt had a plate of mixed salamis, cheeses, and mozzarella. We all had homemade gelato. As I write this I can taste it.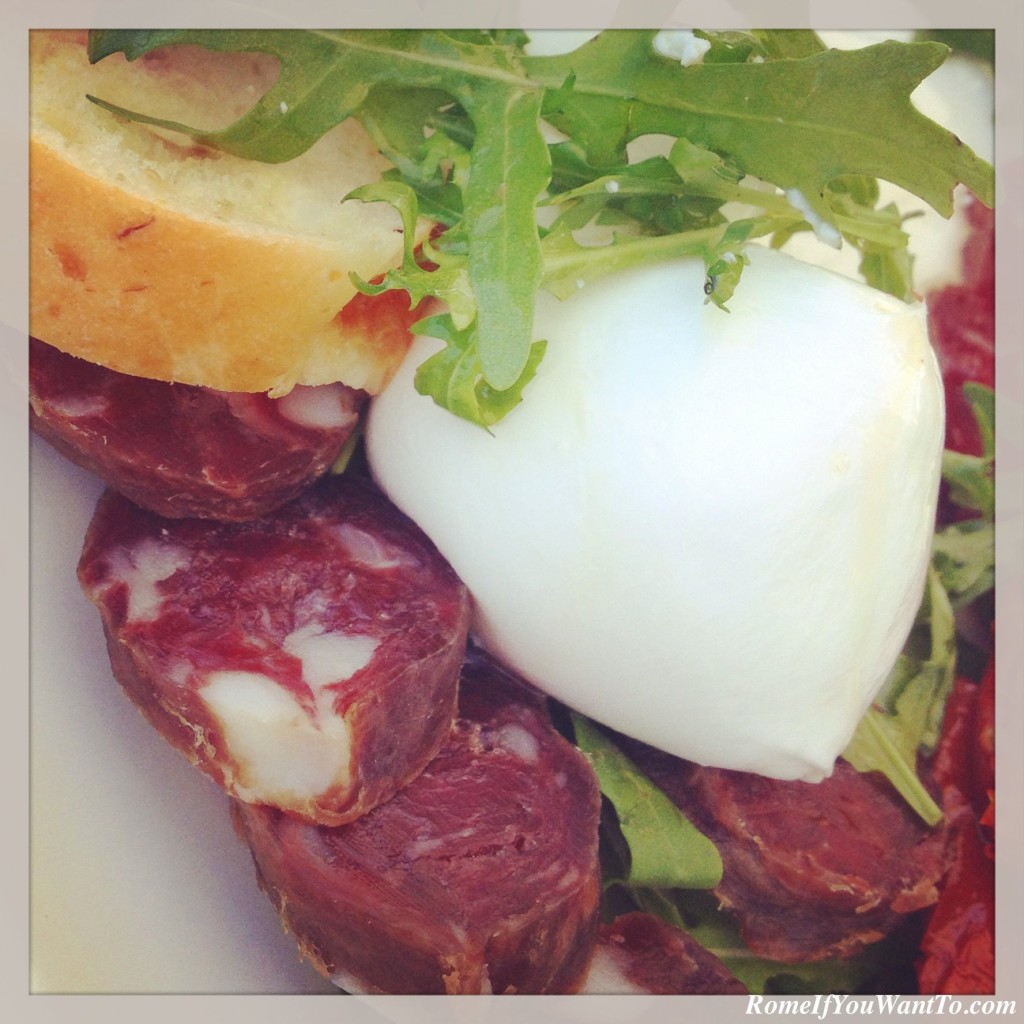 Looked down from the view for a second and saw this gorgeous plate of food.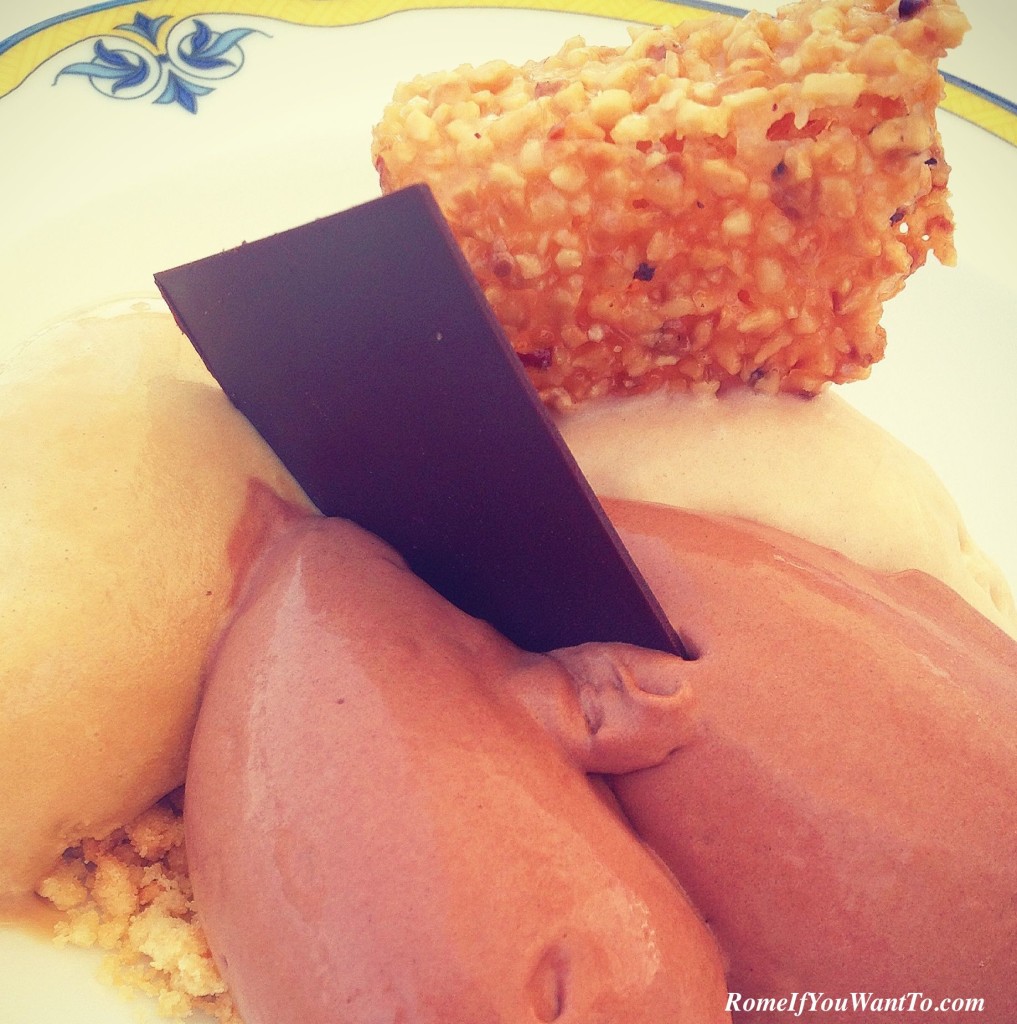 Gelato and Biscotti after lunch because of course.
Palazzo Avino was almost too much to take in, the view, the food, the drinks, the view again. The breeze, the glittering pool for the guests smart enough to be staying in the hotel, and friendly staff who were happy to show me around when I asked them if they would be so kind. Indeed, like a spy, I got a tour of the public spaces, including rooftop sun loungers, a grotto-like spa where I will definitely come back for a massage ASAP, and stunning, bright, white bedrooms with crisp, spotless bathrooms.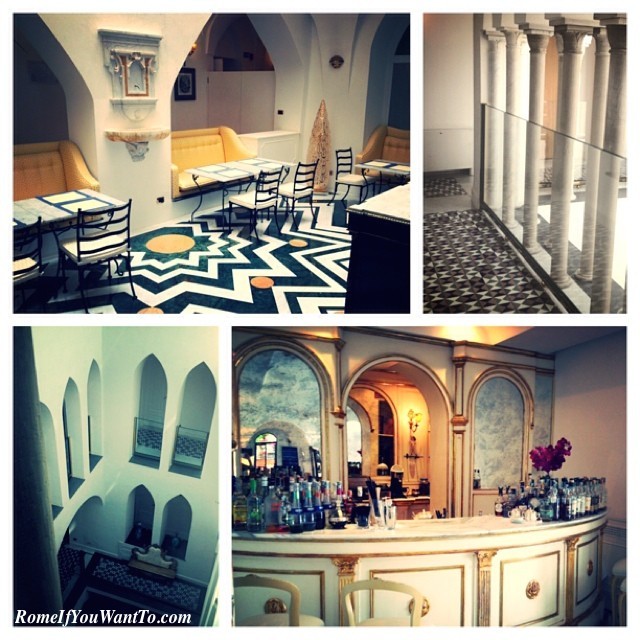 Some interiors of the sensational Palazzo Avino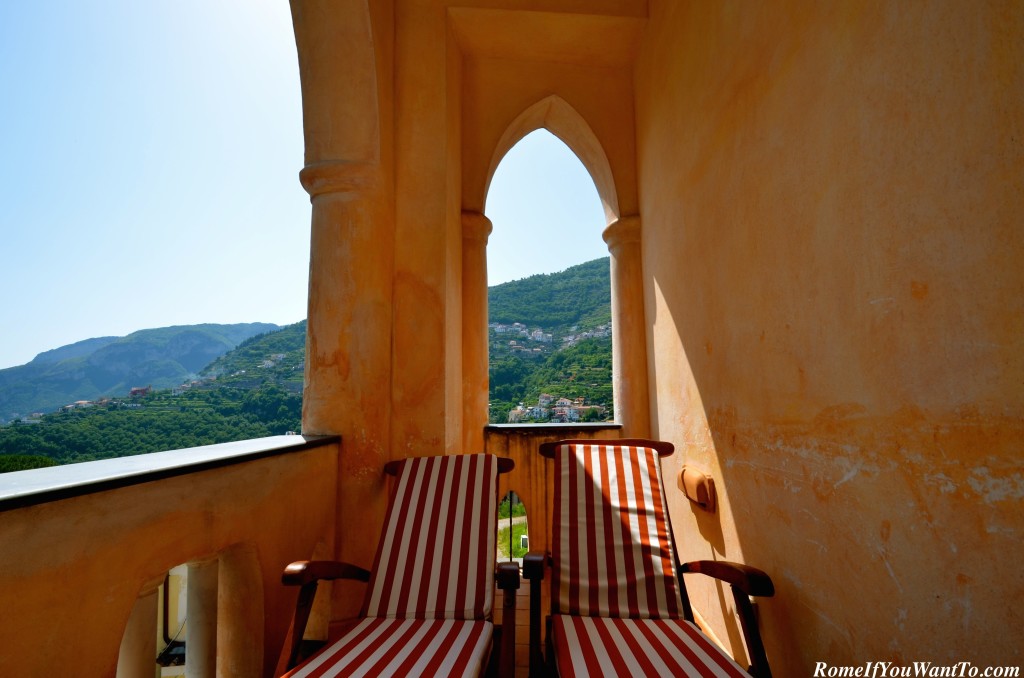 Suite balcony at Palazzo Avino.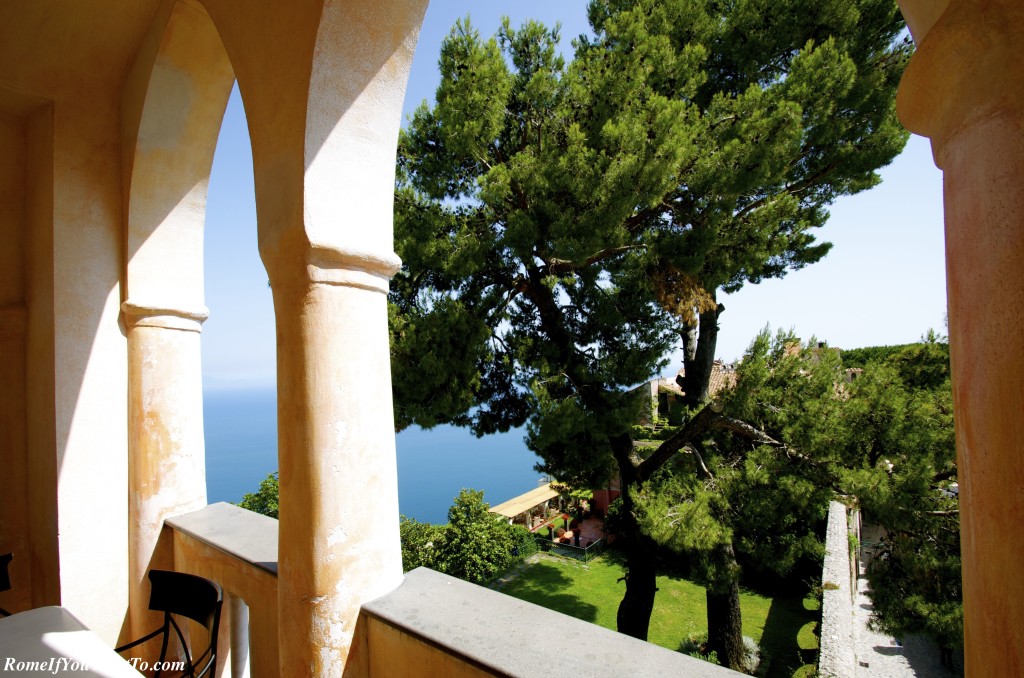 Just when I thought the views from lunch could not be topped, the view from a suite at Palazzo Avino.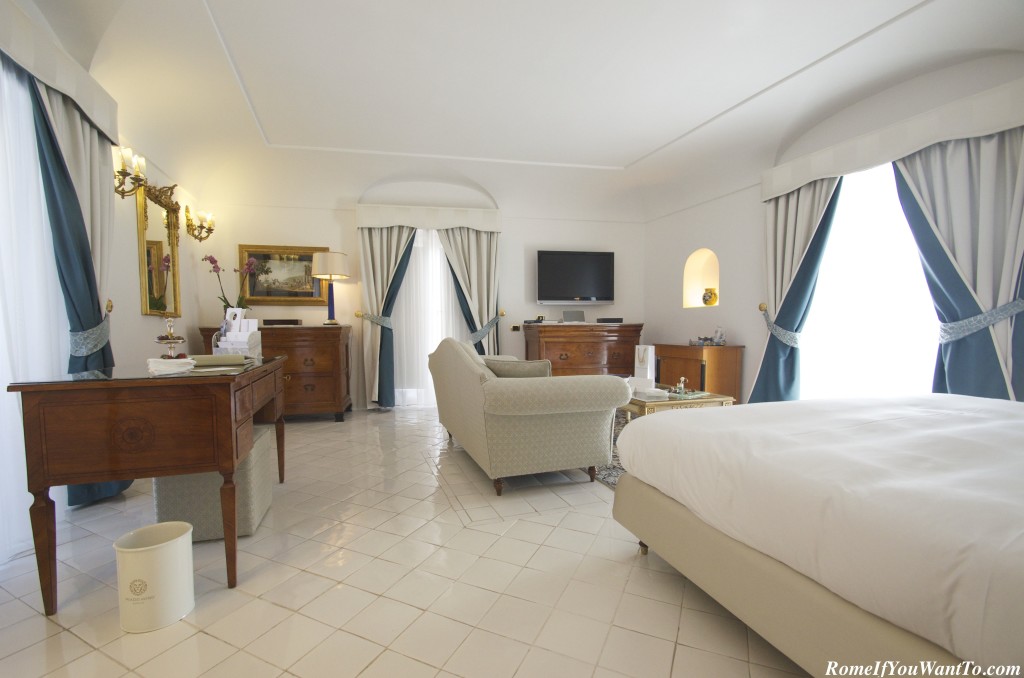 A bedroom at Palazzo Avino … a shame to sleep through it.
Probably the first time I've felt compelled to post a picture of a bathroom on this blog.
So, friends, I think I've found it. The best view and the best food on the Amalfi Coast. It is in Palazzo Avino in Ravello. If you are passing through the Amalfi Coast you should make it a point to AT LEAST eat there, but if you're smart, you'll book a room and spend the night with the windows open, and jump in the pool right after breakfast.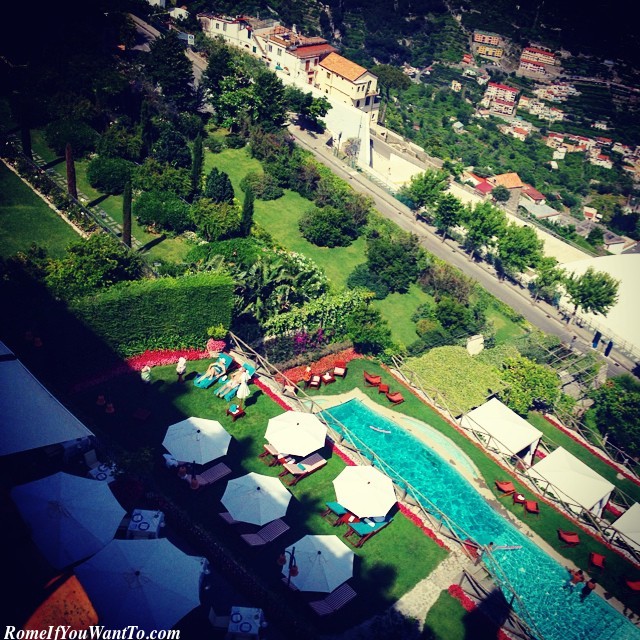 Been wishing I were back here ever since I left.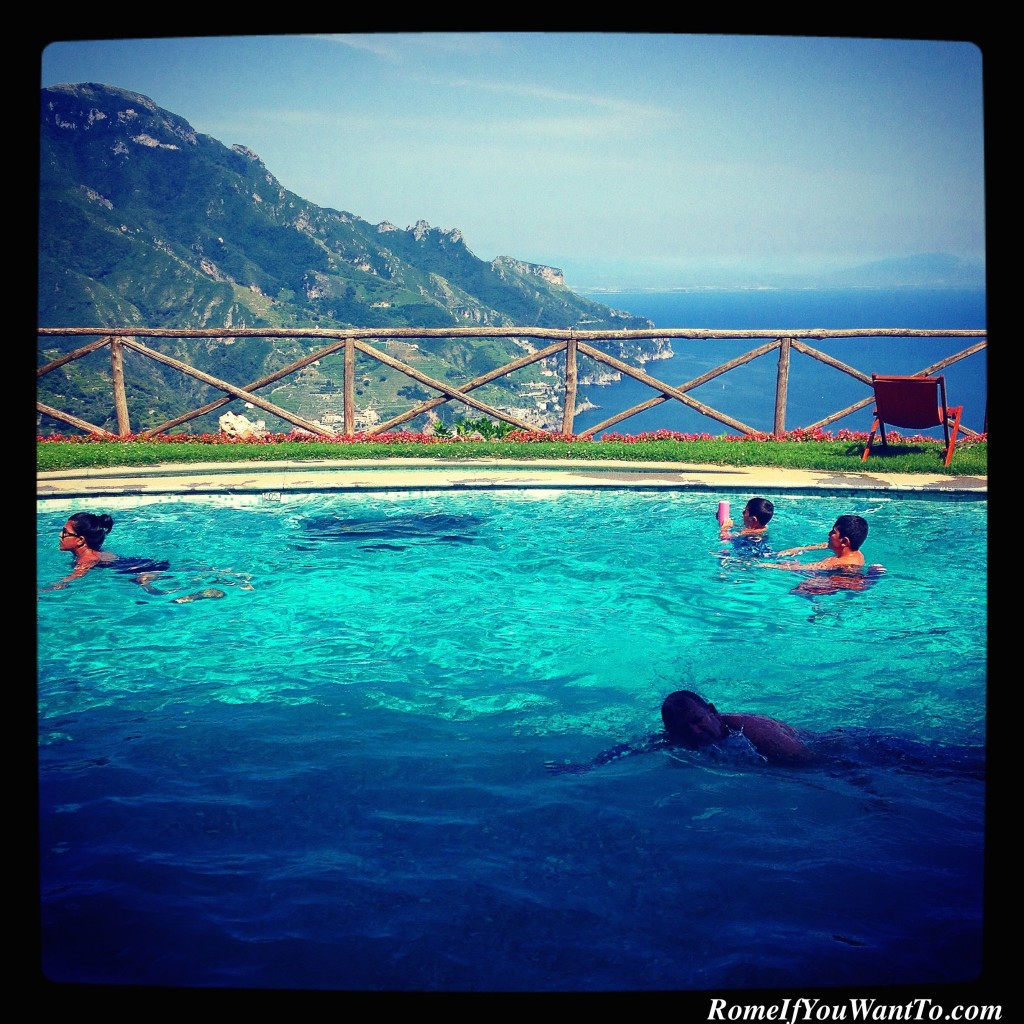 Lapping up luxury at Palazzo Avino.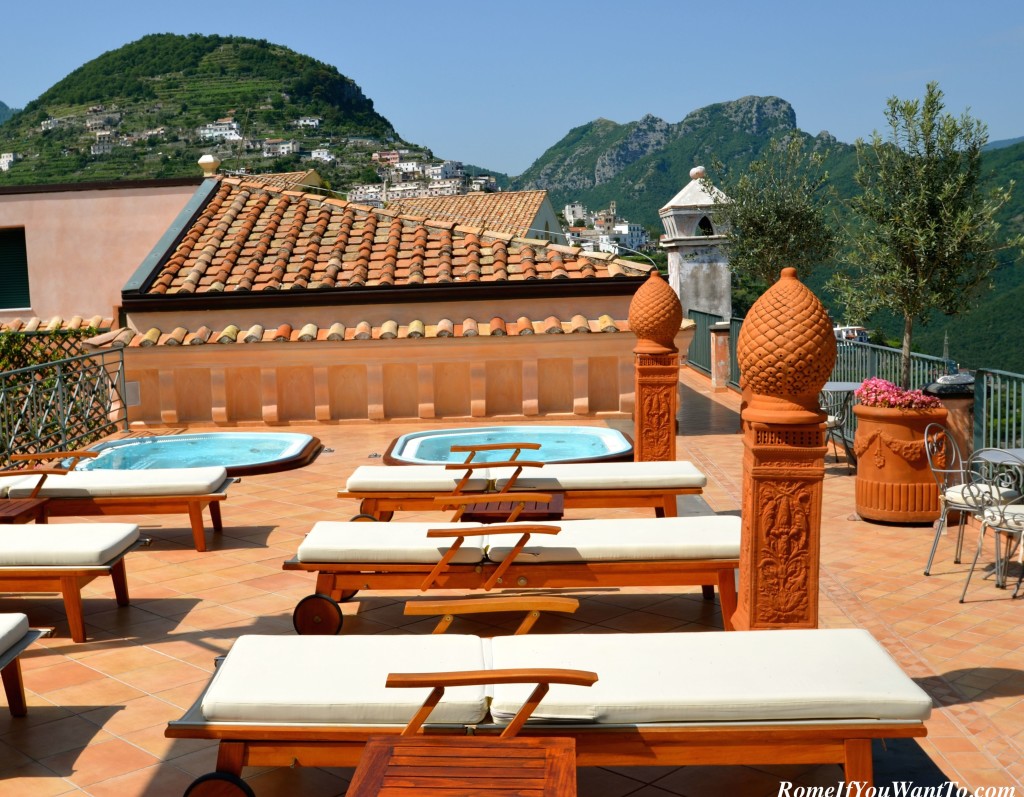 Rooftop sunbathing and a dip in a Jacuzzi and you wonder why I had to pinch myself.
(By the way, my one regret is that I didn't stay until 6:00 p.m. when they have something called a Lobster & Martini Bar on the terrace! I asked what in the world that was, and the helpful staff said it was just what it sounded like. Good heavens!)
After we were sufficiently lightheaded from our lunch and tour of Palazzo Avino, we glided back down the hill to the main area of town, where we visited the Duomo of Ravello, a 12th-century cathedral dominating the town square, full of mishmashed Baroque details next to Medieval mosaics (including the strange depiction of Jonah and the Whale, in which the whale has legs). It is worth visiting just for the 800-year-old marble pulpit.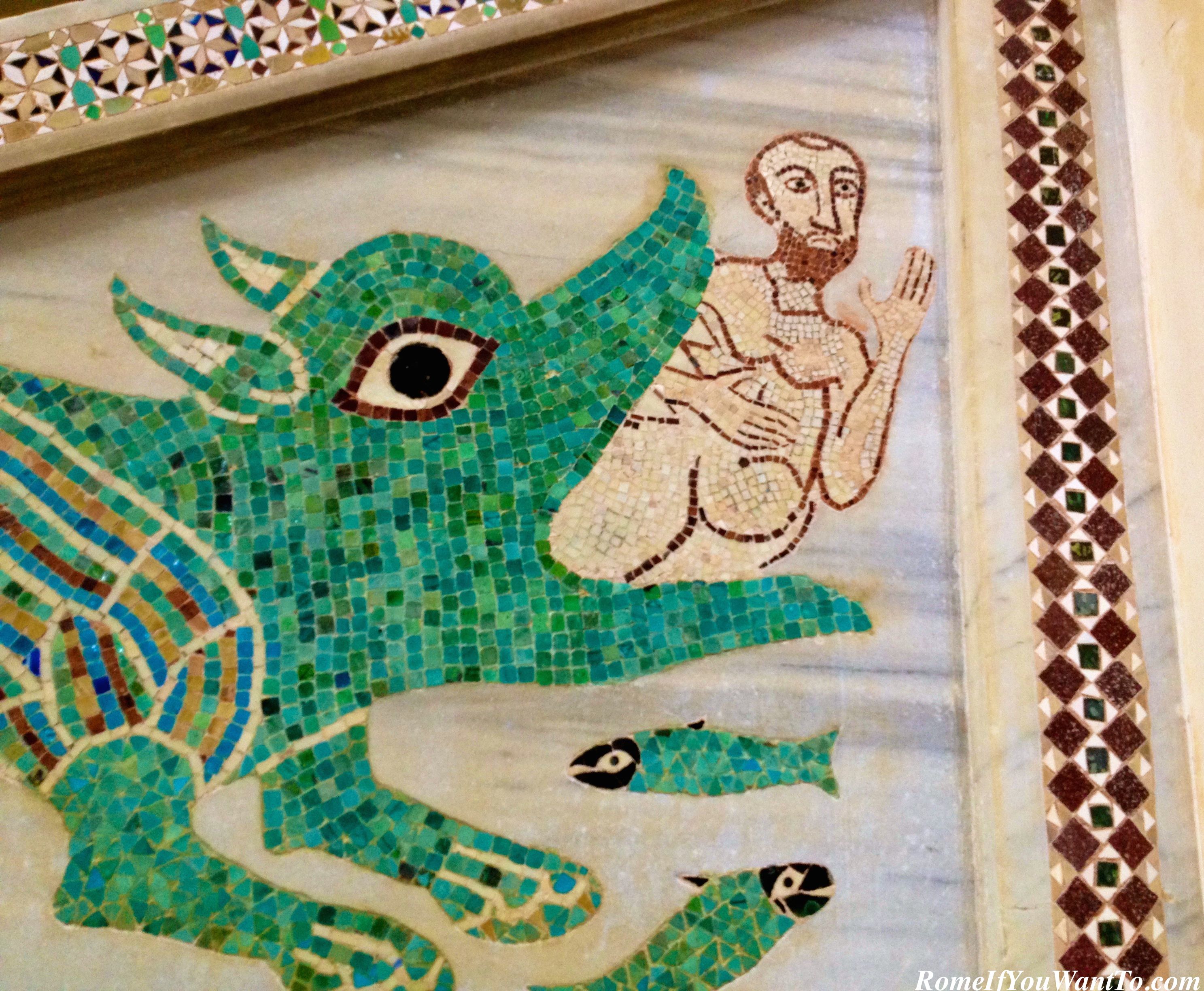 13th Century mosaics in the Duomo of Ravello reveal a whale with legs.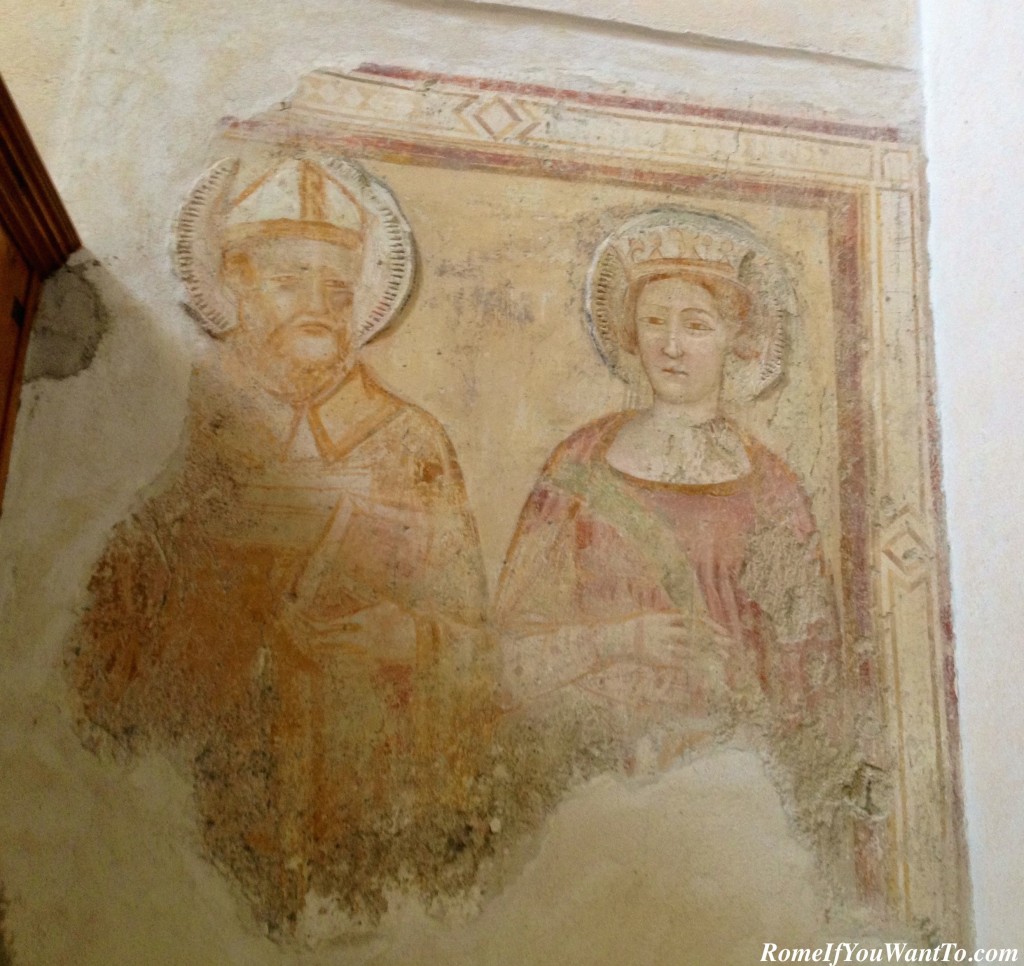 Inside the Duomo of Ravello
We took a walk through the expansive Villa Rufolo gardens, which ends with a auditorium stage built right onto the side of the hill, where every summer the Ravello Music Festival is held (and lasts for months), although how anyone could pay attention to what is on the stage when the real spectacle is behind it.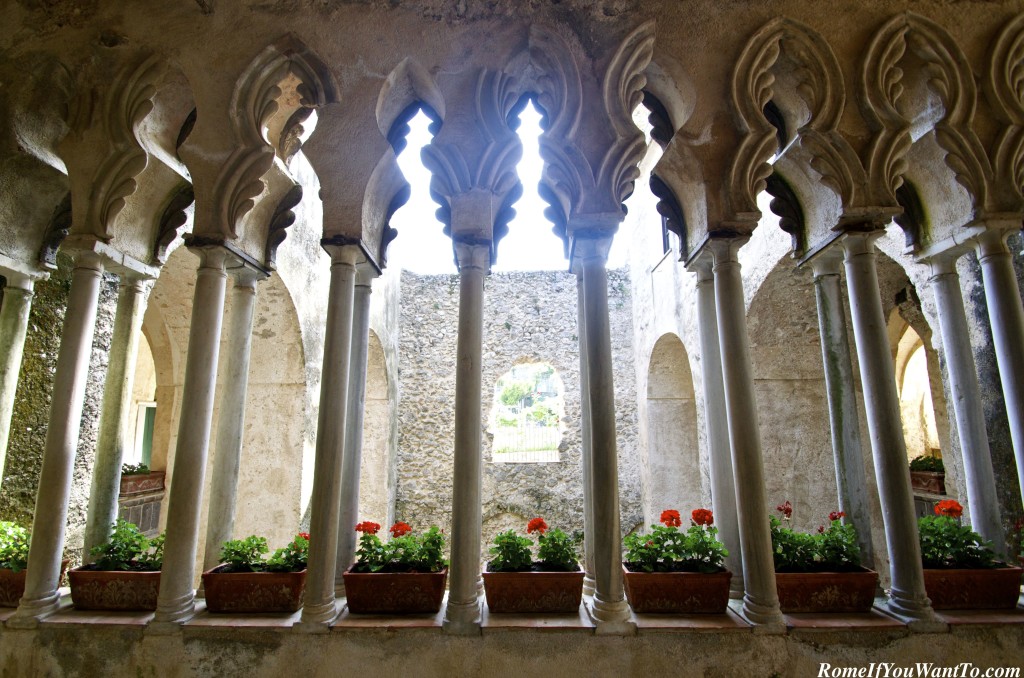 In the Villa Rufolo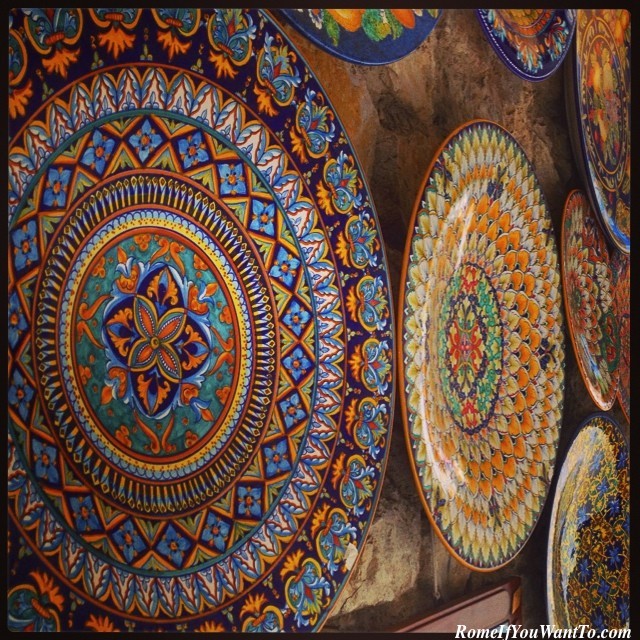 Ceramics for sale in Ravello (wish I had a house)!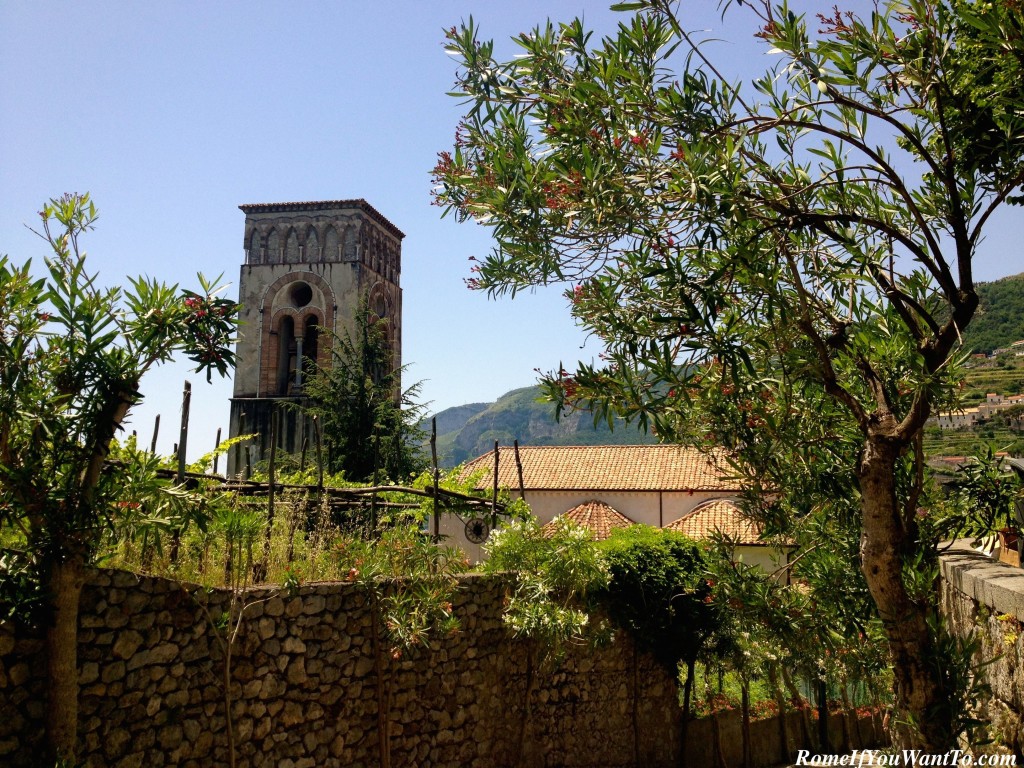 A shady lane in Ravello.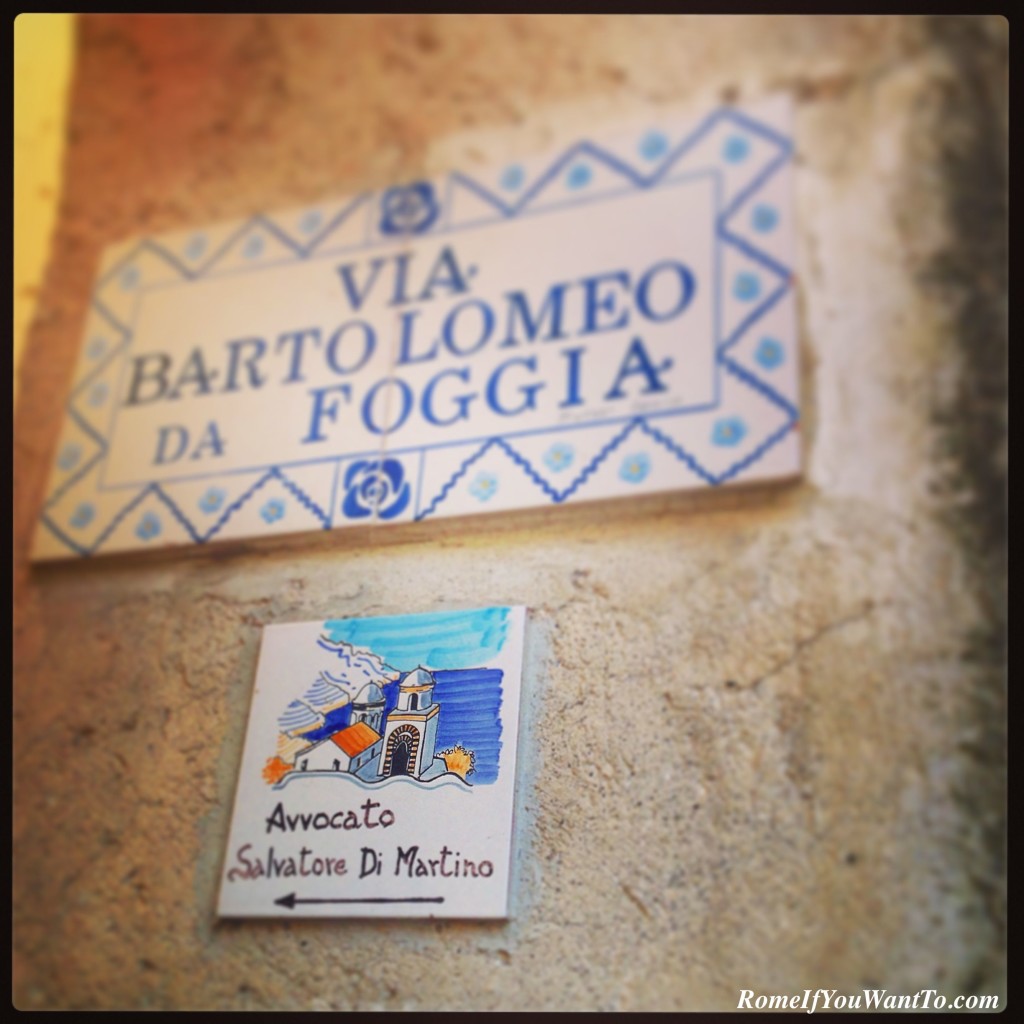 Lots of lawyers dream of hanging their own shingle. This one has the right idea.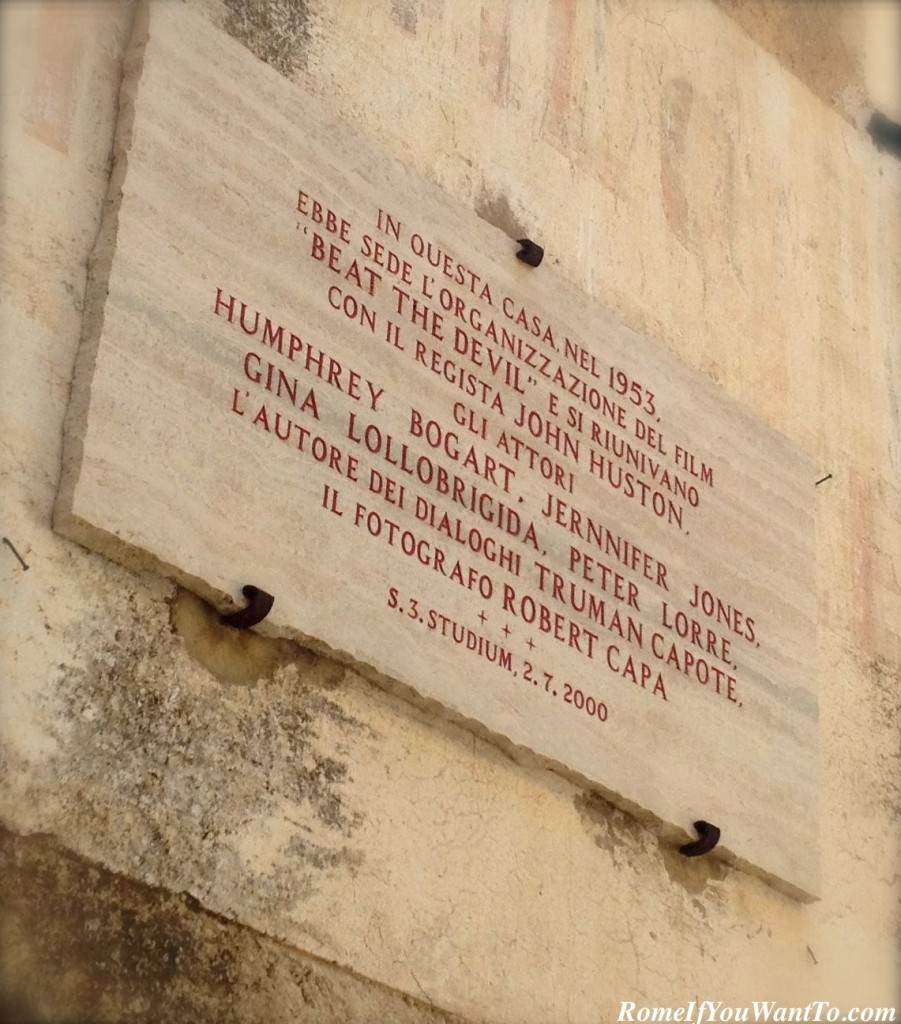 Well, lots of famous people have stayed here, but I've never heard of Jernnifer Jones.
After our day in Ravello, all promising each other we would return and stay for days at the Palazzo Avino, we slipped back down the hill to Amalfi, pinching ourselves and wondering if it had all been real.
GETTING THERE: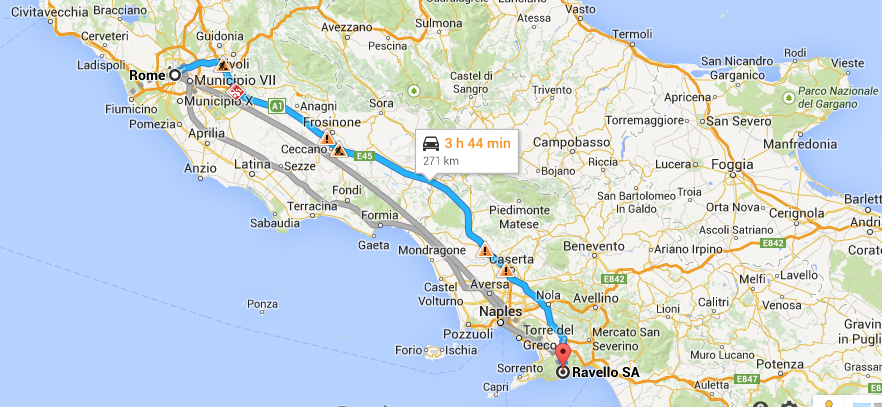 From Rome to Ravello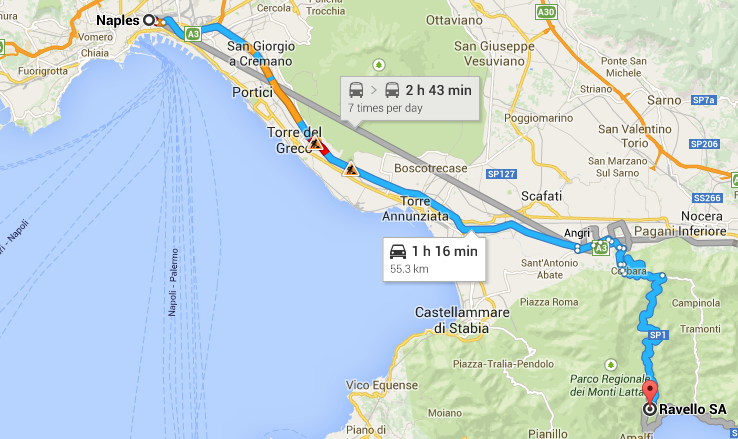 From Naples to Ravello
Take a taxi/car service from Amalfi for about 35 euros each way. Or from other destinations like Positano or Sorrento for a little more cash. Your hotel can arrange this for you, no matter where you are staying. Or take your own rental car. Street parking is tough but Palazzo Avino has a car park.

From Sorrento to Ravello
Take the SITA bus from Amalfi (you can take a different SITA bus from Positano or Sorrento to Amalfi, then change). The schedule changes frequently, and the SITA website is just impenetrable, so ask at your hotel.
Or, if you are in Amalfi, you can even walk!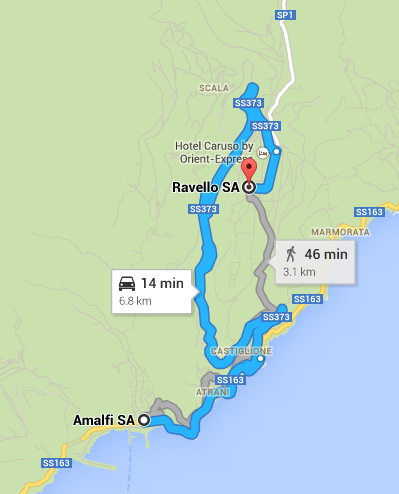 From Amalfi to Ravello – note the footpath!
A more thorough description of your options for getting there is here.
WHERE TO STAY:
Palazzo Avino, obviously.
WHERE TO EAT:
Palazzo Avino again (Lobster & Martini Bar!), but there are also wonderful gelaterie in the main square.
Author : Liz Knight, http://romeifyouwantto.com
Share